Sometimes I don't have the time to create all of the resources I use for printables that I want to design. Other times I need a style of design element that I don't possess the skills to produce myself and don't have the time to learn those skills at that moment in time.
At times like this, I look elsewhere for the design elements I need. Especially fonts, it can take an enormous amount of time, effort and skill to create a font. It can also take a huge amount of time, effort and skill to create design elements. It's also great to support other designers, illustrators and artists.
This page is where I will share with you the places that I use to purchase other designers work to complement and add to my printable designs. Most of these marketplaces offer amazing bundle deals where you can get hundreds or even thousands of dollars off the retail price of the items.
My recommended marketplaces
The Hungry JPEG provides bundle deals which can be massive, there are huge savings to be had there and it is one of my favourite places to buy bundles. They also provide a weekly freebie along with their general freebies section. Everything I have downloaded from there has had a commercial use license, but you should always double check author licensing from anywhere for any items you plan on using.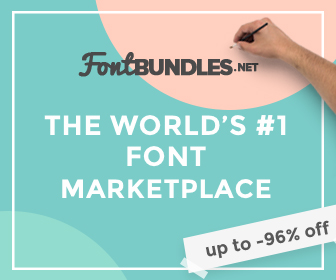 FontBundles is a font marketplace that offers premium fonts for personal and commercial use. They provide bundle deals with a particular theme for each bundle and also individual purchases. There is also a freebies section, some of the free fonts are for personal use only – so check the licensing for each font before downloading them. Their freebies section frequently changes, with items expiring and only being available for purchase after they expire.

DesignBundles is the sister site to FontBundles.  They operate much the same way as FontBundles, so they provide premium resources for individual purchase, themed bundled deals and a freebies section which has items that expire eventually. As with their sister site, the freebies licensing varies between personal and commercial use so always check the licensing terms first.
Graphic River is a huge marketplace owned by Envato, they have numerous marketplaces linked that each specialises in an area. Graphic River is their graphics site, they have almost anything you could think of. Licensing varies dependent on the product, with different licenses available for purchase They have freebies that change every month and generally only one free item in each category. Some sellers on here offer bundle deals, which I have managed to get great bargains from.
Creative Market is another huge marketplace, they have individual items and bundles from different authors. They also have a freebies section which changes every week. Always check the licensing of each item.
This list is not exhaustive, there are many places to find design resources both free and paid for. If you have any you recommend share them in the comments.